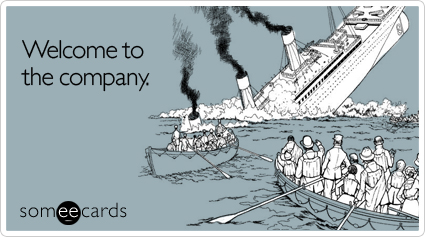 The sarcasm of the illustration here aside, nobody ever wants to hear bad news, especially when it concerns the company supplying your paycheck. There's tremendous temptation to stick our heads in the proverbial sand and pretend everything will go away. Trouble is, not only doesn't it go away, but in today's instantaneous-information world, word spreads, and spreads fast.
Thankfully, there are people skilled in crisis management, particularly crisis management public relations. In June, I listened to a webinar given by Peter LaMotte, a marketing, branding, and communications executive who has been at the heart of some of the most successful public relations responses to bad news. His advice was so spot-on that I could barely keep my pen writing fast enough in taking notes.
The biggest takeaway from the webinar: While we once controlled the message, we are no longer in control and do not have the luxury of time. We therefore need a plan in place ahead of time, to respond swiftly to both internal and external sources of crisis. LaMotte recommends putting together a crisis-management cheat sheet, outlining tools to use and what internal departments are involved. The tools include a pre-written email to customers about hackings that may result in identity theft, even so-called dark sites that are websites set up to go live as soon as a crisis hits. LaMotte gave example after example of real scenarios involving real companies as diverse as McDonald's, the Associated Press, United Airlines, and more. Some were quite successful in managing the message, while others failed miserably. Both provided valuable lessons to those of us on the webinar.
I was so impressed by LaMotte's presentation that I was inspired to make crisis management the topic of discussion for the annual International Superyacht Society members meeting this coming fall. And, I'm delighted to say, LaMotte himself will be a key presenter. Being held on November 3, "Crisis PR Management: When Bad Things Happen to Good Companies and People" will cover:
why you need an emergency public relations plan now—before anything happens—crafted with your legal, PR, and senior-management teams
how to handle internal and external sources of crisis
what to do when a situation goes viral on social media
how an otherwise embarrassing situation can be turned into positive publicity (like this).
If you're a member of the International Superyacht Society, this is one presentation your senior executives cannot afford to miss. If you're not a member, you're still welcome to attend. Check the International Superyacht Society website for further details and admission information.